Large Lead Escapes Mustangs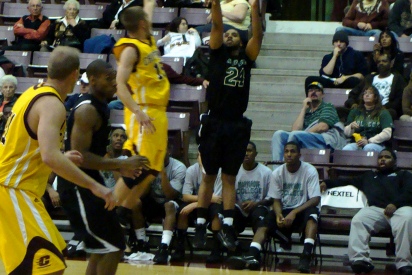 AUBURN HILLS, Mich.-The Mustangs raced out of the gate to an early 22-point lead against a powerful Warrior squad on Wednesday evening. The lead, however, dwindled to 10 at halftime, and then evaporated as the host Warriors clamped down for a strong second half to squeak past the Mustangs, 86-78.
The Mustangs used a strong first half effort behind lights out shooting from swingman Keontay Glazier (Pontiac, Mich.). The junior transfer had his finest half as a Mustangs with four first half triples to balloon the Mustangs lead to double-digits.
A well-oiled Mustang machine eventually pushed their lead to an impressive 22 points (38-16) before a late Warrior push to close the half. An 18-6 run by the opposition brought the lead down to 10 at the half (44-34).
The second half brought a blistering shooting effort from the Warriors. The #4 ranked Warriors shot 17-for-25 for a white-hot 68% in the half. The Mustangs countered with a stellar 45%, but the Warriors were too much in the second stanza.
Twelve second half turnovers played a large part in the collapse. The Mustangs were outscored 25-0 in points off turnovers. The Warriors used the lopsided stat to steal an 86-78 victory from the Mustangs.
Five Mustangs were in double-figures on the night. Glazier led the Mustangs with 20, while Marcus Hopkins dropped in 14. Justin McKinney (12 rebounds) and Mark Brissette matched each other with 11-point efforts before Eric Johnson rounded the double-digit scoring out with 10 points (10 rebounds).
The Mustangs (5-14) will look to turn their luck around on Saturday when they visit NAIA power Spring Arbor University. Tip-off is slated for 3pm.