Women's Soccer Adds Ladywood Standout Bella Larsen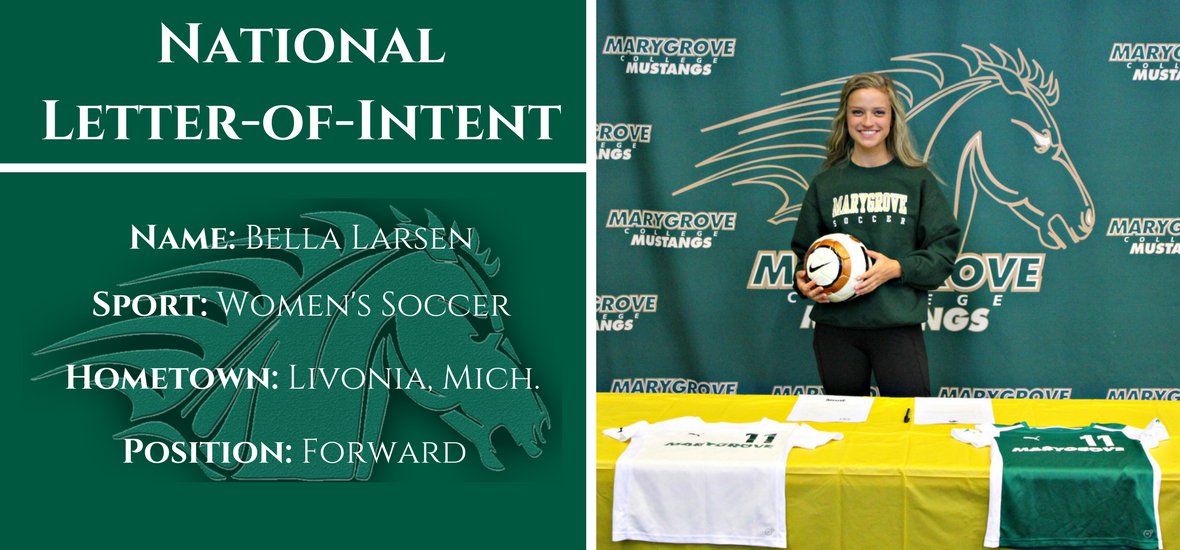 DETROIT, Mich. – Marygrove College women's soccer staff announced the addition of Bella Larsen to the incoming 2017-18 recruiting class. Bella signed her National Letter-of-Intent to play for the Mustangs next fall.
Bella Larsen is a 5-foot-6 forward from Livonia, Michigan. Bella is the daughter of Karrie and Leif. She has four siblings, a sister Abbie, and three brothers, Zack, Alex, and Jorgen.
Larsen is a top-notch student-athlete who recently graduated from Ladywood High School. She played women's soccer and was a cheerleader at the varsity level for the Ladywood Blazers. On the soccer field, Larsen helped her team to a District Championship. She currently plays on the travel soccer team Waza F.C.
The Marygrove women's soccer team will take on Goshen College in their 2017 home opener on August 21st, at 5:00PM.
Congratulations, Bella on your commitment to further your education and soccer career at Marygrove College!
Photo Gallery ||Â https://www.marygrovemustangs.com/SIDHelp/photoGallery/341.php
Follow Us || @MGroveAthletics
#GROVEnation