Houston's 43 Lifts Redhawks Past Mustangs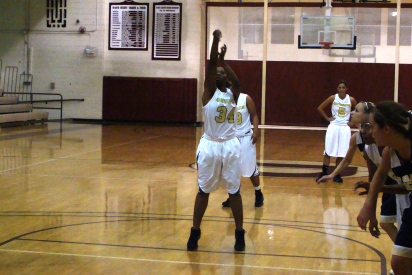 GARY, Ind.-A key NAIA/USCAA battle took place Saturday inside the Savannah Center on the campus of Indiana University Northwest. The host Redhawks wore down the Mustangs with dominant post play from one of the NAIA's best centers in the country, Sharon Houston.
The game was marked on the calendar by the Mustangs due to the high importance for postseason play in two associations. In the NAIA, the Mustangs and Redhawks are aligned in the same conference, the A.I.I., made up of NAIA independents throughout the country. In the USCAA, the two teams are locked in the same association and both sit in the top 10 heading into Saturday's contest.
A win over the Redhawks would lift the Mustangs in the rankings and give them better playoff positioning. The win would be a large step toward the team's goal of gaining a top five in the USCAA and a favorable seed at the A.I.I. conference tournament (which is also held at Indiana Northwest).
Without question, the conference (A.I.I.) player of the year has been Redhawk center Sharon Houston. Her dominant play struck once again for the Redhawks and the Mustangs fell victim to a bullish effort down low. Houston totaled 43 points (20-28 FG), 19 rebounds, and 7 blocks to hold the Mustangs back from beating the Redhawks on their home court. The effort led to a 77-61 Redhawk win over the visiting Mustangs.
The Mustangs battled close and countered with three players in double figures. Junior forward Santrea Bush (Muskegon, Mich.) attacked the Redhawks for 16 points. She was followed by Maria Martin (West Bloomfield, Mich.) with 15 and Ebony Jackson (Ferndale, Mich.) with 13. Freshman forward Arielle Edwards (Grand Rapids, Mich.) chipped in a fine line with 6 points and 11 rebounds.
The loss (3rd in a row) drops the Mustangs to 8-11 on the season. Coach Hitchcock and the team will look to get back on track with a favorable upcoming schedule before a showdown with USCAA rival, Rochester College. Visit the women's schedule for dates and times for Lady Mustangs basketball!