Mustangs Add John Glenn's Brittani Robinson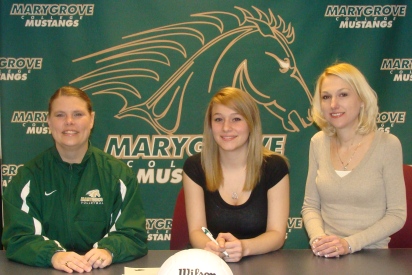 DETROIT, Mich.-Coach Graves continues to bring in an impressive 2010 class at Marygrove College. Today, the program announced the signing of Westland John Glenn's Brittani Robinson. The signing follows four previous commitments to solidify an already strong team for 2010.
Robinson, a 5'10" left outside and back, saved the best for last during her playing days as a Rocket at John Glenn High School. The 2009 season was one for the record books for one of the Rockets' best. Robinson's strong season earned her All-City, All-Region, and Offensive Player of the Year. The senior culminated the award winning season by helping the Rockets to a district crown (2009).
Reuniting with a former club teammate, Robinson joins recent signee Hailey Wilson (Brighton, Mich./Brighton) as 2010 commitments for the upstart Mustangs. The duo joined forces at the club level for Huron Valley and High Velocity. The time playing together should prove to be a strength for the Mustangs next season.
Coach Graves on Robinson: I recruited Brittani immediately after seeing her play at an open tryout. The thing that impresses me the most about Brittani is her consistency. That was something we lacked last year and I am confident her play will help resolve the first season consistency woes we faced. Brittani is deceptively tall. She is closer to 5'11" and plays taller than what any roster will state. I know she will see the court early and often for the Mustangs.