Mustangs Complete Season Sweep of Redhawks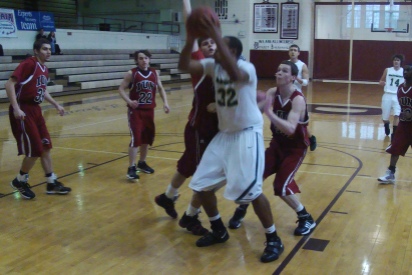 GARY, Ind.-The Mustangs boarded the bus for a Saturday trip to Gary (IN) to take on NAIA and USCAA rival, Indiana University Northwest. A strong performance was needed in order for the Mustangs to impress the (USCAA) pollsters as the race towards the national championship tournament heats up.
The game wasn't always on cruise control like last months 48-point (116-68) victory. A slow start, combined with a white-hot Redhawk performance, plagued the Mustangs early on. The Mustangs would find themselves down before applying the pressure and smothering the Redhawks into numerous turnovers.
After clamping down on the defensive side, the Mustangs exploded offensively for nearly 60 second half points to dismiss the Redhawks for the second time in as many tries in the 2009-10 campaign. The Mustangs went ahead by as many as 20 before cruising to a 14 point victory, 89-75. The Redhawks made the score appear a little closer than the second half played out with a buzzer-beating three to close the game.
Eric Johnson (Southfield, Mich./Lathrup) , a 6'8″ junior forward/center, matched his career high with 27 points to lead the Mustang charge. Johnson also snagged 14 rebounds in the contest.
Reigning USCAA All-American Honorable Mention forward, Justin McKinney, (Detroit, Mich./Mumford) had another compete game by pulling down his seventh double-double of the season with 18 points and 14 rebounds. Marcus Hopkins (Southfield, Mich./Southfield) finished with his third highest total of the season with 25 points.
The Redhawks were paced by sharpshooting Pete Trgovich III with 32 points.
The win helps the Mustangs (8-17) chances of getting off the bubble for USCAA bid day. A win is needed next Friday over Great Lakes Christian to strengthen the team's national tourney resume.