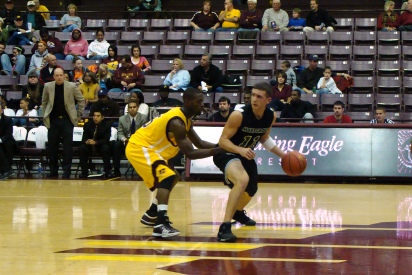 DENVER, CO-On Saturday, the Mustangs led by as many as 12 over host and #1 Johnson & Wales University. The Mustang lead lasted nearly wire-to-wire before the Wildcats stole the game in the final minute winning, 64-60.
With the loss the Mustangs' NAIA National Championship Tournament hopes were dashed. A familiar scene played out in Denver as the Mustangs lost another double-digit lead.
This time, however, the Mustangs held the lead over the favored hosts for nearly the entire game. In the end, the team did not get the breaks they needed and dropped the semi-final game to send them to a consolation showdown at 3pm EST Sunday.
The Mustangs were paced by Marcus Hopkins (Southfield, Mich./Southfield) and Chris Sinagoga (Madison Heights, Mich./Bishop Foley) with 14 each. Mark Brissette (Garden City, Mich./Garden City) followed with nine points on 3-of-3 shooting from behind the arc.
Listen live tomorrow at 3pm EST when the Mustangs take on the loser of #2 Ohio Dominican and #3 Walla Walla University. LIVE AUDIO!