Mott's Velasco Inks with Mustangs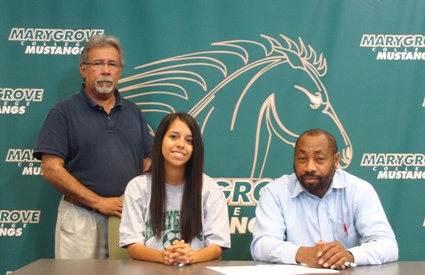 DETROIT, MI–Mustang women's soccer added another prized student-athlete to their first ever recruiting class by signing one of the premier local talents in the metro area. Warren Mott's Janina Velasco is the latest of the long line of superior talent to sign a letter of intent for the Mustangs.
Velasco, a 5'1″ midfielder, will head to Marygrove this fall with an impressive soccer resume'. Over the course of her career as a Marauder at Warren Mott, the two year captain was named All-Conference twice, as well as First Team All-District and All-County her senior year. During her senior year MVP campaign, Velasco led her team to a second place finish in the highly competitive MAC-Gold Conference.
Coach Williams on Velasco: A player of her status is a great asset to our program. We hope Janina's signing will influence other great athletes to join our program not only this year, but for years to come. Her experience on clubs such as Vardar will prove to be valuable to us from day one. Janina is a student of the game and showcases an incredible understanding for the game. We are pleased to have Janina in our program.