Coach Profile: LaCema Womack – Track & Field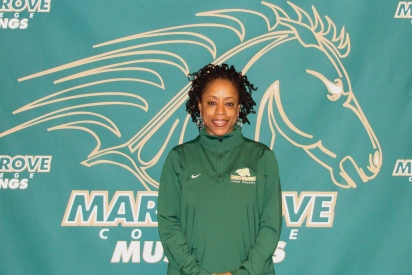 DETROIT, Mich.-Marygrove College athletics recently announced the hiring of LaCema Womack as assistant track & field coach. Coach Womack brings a wealth of coaching experience to the Mustangs ever-growing athletic department. Below is a closer look at Coach Womack and her extensive coaching career.
LaCema Womack is starting her first season as assistant men's and women's track & field/cross country coach for the Marygrove College Mustangs. Coach Womack will assist with overall operations of the program, specifically specializing in the team development of indoor track & field, multi-event, jumps, and throws, in addition to overall recruitment of incoming student-athletes.
Coach Womack is ending her Michigan High School coaching career of 13 years. During that time, she was a head boys and/or girls coach developing individual student-athletes and school teams to City, Regional, and State Championships in Track and Field, Sprints, Hurdles, Jumps, Throws and Distance events. Her final season ended with the Detroit Public Schools at Communication Arts High (CMA) coaching the Boys Cross Country team winning both the City and State Regional Championships.
In addition, the CMA Boys Track & Field team qualified individuals in at the State Regionals winning Long Jump, 800m and 1600m who also made the All-State Team. Part of her extensive coaching success, Womack also coached two girls from CMA in the throws event who also qualified at the State Regional and placed highly at the State Championship.
During the summer and off season months, Coach Womack adds to her time coaching student and club athletes in all specialized events qualifying them to compete to winning championship for the USATF and AAU National Junior Olympics. She also her won training and sports leadership program, involving conditioning, training and advising student-athletes in event specific track & field events for stronger performances and preparation for their upcoming season and/or collegiate readiness. In addition, Womack has worked with and provided mentoring for former athletes to become specialized event coaches.
Womack added to her experience as women's sprint coach for the Mid-West Meet of Champions, a member of Michigan Interscholastic Track Coach Association (MITCA). She is also a Michigan Certified Track & Field Official.
Coach Womack is a university educator and resides in Southfield, Mich.