Rouse first to ink with track & field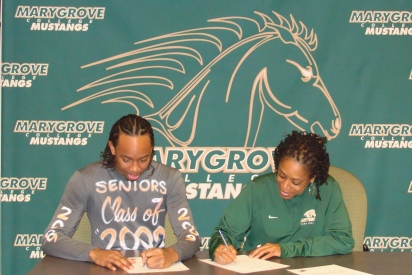 DETROIT, Mich.-Darryl Rouse, a former Detroit Communication & Arts (CMA) standout, became the first student-athlete to sign with Marygrove's new track & field program. The signing comes days after the Mustangs announced track & field as a varsity sport for the academic year beginning fall 2010.
Rouse, a 5'9″ long jumper, is a well-known athlete in the metro area due to his extensive success while at Detroit CMA and numerous clubs. In high school, Rouse set a school long jump record of 21'6″ as a sophomore (2007). The distance allowed him to top all others during the city championships for three years.
The accomplishments led to Rouse being named most improved (2007), All-City (2007-09), and All-Region (2007-09). His outstanding performances culminated with an All-State Team appearance at the end of his senior season.
Strong determination and focus led Rouse to club success as well. He was a member of the Cheetah Track Club and earned All-Region and All-State honors over the summer of 2007. From 2007-2009, Rouse set numerous long jump records as a member of Speed Zone's Indoor Track Club.
Rouse credits his parents, as well as Coach LaCema Womack, for instilling great skills, values, and respect. The excellent support team stressed the importance of continuing his education and excelling in the sport he loves. Womack, assistant track & field coach, was also Rouse's high school coach and mentor.
As part of Marygrove's track & field club team, Rouse is set to compete in this weekend's USA Track & Field Meet at Taylor University in Upland, Indiana.