Marygrove Announces Innovative Urban Golf Project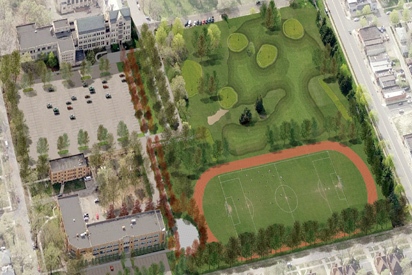 The "Urban Golf Project" will support Midnight Golf-a 30-week empowerment and mentoring experience to improve underserved young adults' personal development, educational preparedness and appreciation of the game of golf -with a place to gather, learn and practice. The golf facility will offer a unique urban land-use plan, designed with the intent to incorporate state-of-the-art sustainability practices, such as minimalist site-impact, water conservation and environmentally conscious fertilization and maintenance. It will feature a large practice putting green, a large sand bunker, two practice tee areas to accommodate up to 26 hitting bays and a 4-hole short course. World renowned golf course architect, Tom Doak has committed to providing the design and construction oversight. Doak has designed over 30 courses worldwide, four of which are rated in the top 100 courses in the world.
In addition, the Urban Golf Project will also provide a home for outdoor sports at Marygrove College. As part of a multiphase plan, the project will develop outdoor athletic facilities for the ever-growing Mustang athletic department. Along with the course, the implementation of the Urban Golf Project will allow a soccer field to be built for use by fall 2010. As part of the next phase, a track (to house Marygrove's new track & field program) will wrap around the soccer field following the construction of the state-of-the-art golf course and [soccer] field.
Complimenting the new facility will be the implementation of men's and women's golf programs at Marygrove. The Mustangs rapidly growing athletic department is pleased to announce men's and women's golf will begin intercollegiate varsity competition beginning this fall. An official search for the program's head coach is underway.
For the full story on Marygrove College's Urban Golf Project please visit http://marygrove.edu/promo/midnight_golf.html. GO MUSTANGS!