Day Inks 2010 Letter of Intent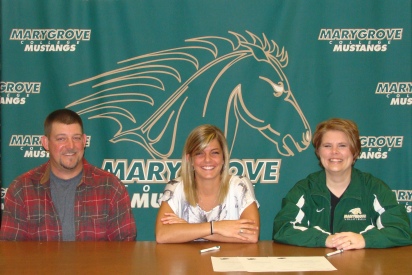 TAYLOR, Mich.-A strong 2010 just got stronger with the signing of Taylor John F. Kennedy High School's Katie Day. The signing took place inside the media center at JFK High with plenty of support for the standout athlete.
Day, a 5'8″ energetic athlete, played outstanding as outside hitter for the JFK Eagles for four seasons. In addition, the all-around athlete was a member of the Eagles track (four years) and basketball (three years) teams. The hardworking talent earned Coaches Award honors in 2008, as well as Team MVP honors during her freshman season.
Day's favorite sports moment was in 2008 when the Eagles volleyball team beat Romulus High after a hard season on Senior Night.
The Eagle standout will be the second on Marygrove's roster in 2010. Kat Lewis, a basketball-turned-volleyball player for the Mustangs, will become reunited with her former teammate when the 'Stangs hit the court this fall.
Coach Graves on Day: Katie is an athlete with extreme ability. She has an immense amount of potential and raw talent. Her athleticism and skill will be a great asset to our program next year. She has a great work ethic and already fits in very well with our team. We are glad to add her to our Mustang family and excited to see her play in the fall!