Mustangs sign Aplena CC transfer Simms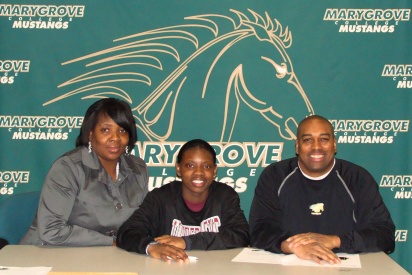 DETROIT, Mich.-Signing number two ushered in the first community college transfer in the 2010 class. Alpena Community College's Etouya Simms signed her 2010-11 letter of intent Saturday morning in Canton. Simms would be the first of two community college transfers to sign Saturday morning.
The former Flint Northwestern (2008) star made a stop as a Mott Community College Bear before traveling north on I-75 to Alpena Community College last season. Simms, a 5'5″ gritty point guard, was named MCCAA Eastern Conference Honorable Mention during the 2009-10 season. The honor led Simms to an Eastern Conference All-Star Game selection (Simms team also won the game).
Coach Hitchcock on Simms: Etouya is a well-rounded guard that has proven passing and scoring ability. She is athletic and will be a difficult match-up for any opponent on our schedule next season. I look forward to Etouya's arrival to campus this fall.