Mustangs Sign Flint Beecher's Laster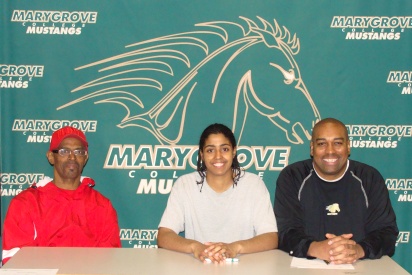 DETROIT, Mich.-The final signing of the day went to Loletta Laster out of Flint Beecher High School. With the signing, Laster concluded the most successful day of signings for the Mustangs in program history.
Laster is headed to Marygrove known as a hard-nosed forward that presents difficult matchups for the opposition. The 5'11" standout was named Genesee Athletic Conference Honorable Mention for her efforts this season. Showcasing great work ethic, Laster earned Beecher's Coach's Award due to her commitment to the game on and off the court.
Her athletic presence was enough to earn Laster a roster spot on the YBAW AAU Team.
Coach Hitchcock on Laster: Loletta is a strong player who came to us late. She is a well-coached young lady with a tremendous work ethic. At nearly 6′, Loletta is one of many post players we look to add to address our needs down low. I look forward to coaching her next season.