Mukhtar Joins Nat'l Champion Mustangs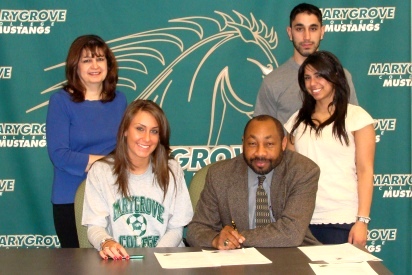 DETROIT, Mich.-The Marygrove Mustangs women's soccer team is pleased to announce the signing of Schoolcraft transfer, Stacey Mukhtar. The singing adds another vital piece to the defending national champion's puzzle as the team looks to repeat in 2010.
Mukhtar, a 5'6″ midfielder, has also enjoyed success at the college level. The athletic Mukhtar helped lead her local community college team to back-to-back eight place finishes at Junior College Nationals. To get to nationals, Mukhtar's teams won state and regional titles along the way.
The former Walled Lake Western (2008) standout earned the impressive "Four-Year Varsity Award" and was named honorable mention in her final season as a senior. The dedicated student-athlete also played on the [Walled Lake Western] Warriors volleyball team before deciding soccer as her choice for college.
"Playing college soccer was the best decision I've made. Each game, each practice was very memorable, fun and exciting. I'm excited to continue playing college soccer at Marygrove College," said Mukhtar as she inked a 2010 Letter of Intent to play for the Mustangs.
Coach Williams on Mukhtar: Stacey is a dynamic player that will help us immediately. We already have a great base of talent, but Stacey is the type of student-athlete that will fit in well here at Marygrove. I expect big things from her over the next two years in our program.