Adams Signs with Mustangs for 2010-11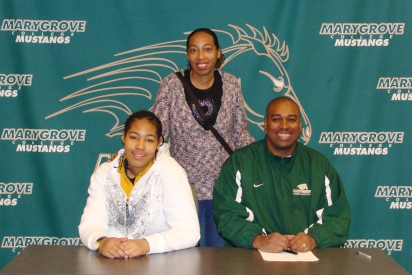 DETROIT, Mich.-On Saturday, Allen Academy's Monea Adams inked her 2010-11 Letter of Intent to play for the Mustangs next season.
Adams, a 5'11" forward/center, is another signee with plenty of height for the Mustangs. The four-year post player enjoyed a successful career along with the rest of her Wildcat teammates. Adams helped lead her team to SAC and District Championships from 2008-2010. In addition, the dominating post presence helped elevate her team to a Regional Championship in 2009-10. The athlete also participated in two years of cross country and a year of softball at Allen Academy.
Coach Hitchcock on Adams: I had the opportunity to watch Monea play while at Allen Academy. She is a special player that will help us on in the frontcourt this season. I look forward to a successful four years from Monea as a Mustang.