Mustangs Sign Talented Spicer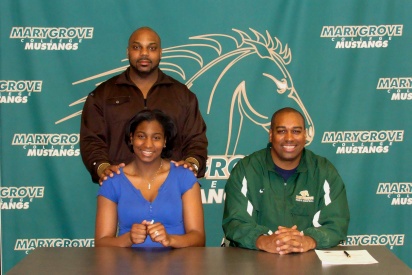 DETROIT, Mich.-Coach Hitchcock and the rest of his coaching staff continued their hot streak of commitments this offseason with the signing of Mariah Spicer. This signing has been in the making for over a year as Spicer landed early interest from the Mustang coaching staff due to her excellent play at Mount Clemens High School.
Spicer heads to Marygrove after a year in college at St. Clair Community College. The 5'10" athletic post player has success on her mind for her upcoming career at Marygrove. The potential success will add to the already long list of accomplishments Spicer compiled on the hardwood at Mount Clemens High.
She tipped off her high school career with back-to-back district championships in her freshman and sophomore campaigns. During her junior season, Spicer dominated the competition on her way to averaging a double-double in points and rebounds. The effort landed her team MVP honors, as well as Player of the Week in 2007. Showcasing the intangibles, Spicer was also captain of her high school and AAU (Michigan Heat & Motor City Heat) teams.
Coach Hitchcock on Spicer: Mariah is an extremely talented young lady. She will give opponents difficult matchups on a nightly basis due to her athleticism on the block. I look forward to coaching Mariah and the rest of the 2010 signees this fall.