Clarenceville's Davis Inks with Mustang Volleyball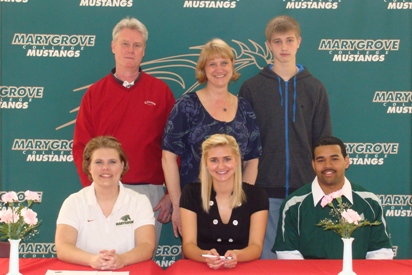 DETROIT, Mich.-The second signing at Livonia Clarenceville went to Paige Davis – a senior three-sport athlete for the Trojans. Davis' family was in attendance as she inked a 2010-11 Letter of Intent to play at Marygrove College in the fall.
Davis, a 6′ middle/right hitter, possesses rare athleticism that propelled her to starring in three sports for the Clarenceville Trojans. As a transfer before her junior year, Davis was unable to play volleyball due to MHSAA regulations. The 6′ athlete didn't wait long to get back into action as she participated in basketball and track & field later that year.
On the volleyball court, Davis used her raw leaping ability to lead the team in blocks her senior season. The outstanding play led to a Second Team All-Metro Conference selection.
Coach Graves on Davis: To put it simply, Paige is an athlete. She has the potential to become a formidable presence at the collegiate level. I am excited to have the opportunity to coach her because I know she will grow into a great player for us over the years.