Men's Track & Field Inks Hill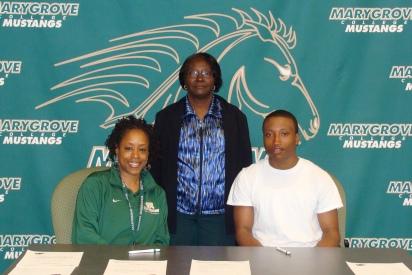 DETROIT, Mich.-On Friday, men's track & field completed their third signing of the day when Troy Hill inked a 2010-11 Letter of Intent. The signing brings the men's total to four incoming student-athletes to join plenty of in-house talent at Marygrove College.
Hill, a 5'8″ track standout from Detroit Crockett, commits to Marygrove after an impressive high school and AAU career. A leader, Hill was named a captain on Crockett's track & field team and earned an East Side Championship during his high school days. The well-rounded student-athlete also was a member of the Junior ROTC program where he placed 1st overall in his event for three years. In AAU, Hill helped lead his Detroit Blazers 4×800 relay team to an 8th Place finish in a talented field.
Asst. Coach Womack on Hill: Troy has the intangibles to become a solid runner at the college level. With hard work and determination I know he will find success at Marygrove. I am excited to coach him and all the other recruits in 2010.