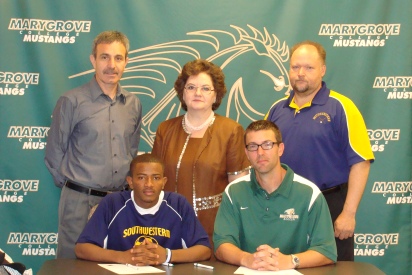 DETROIT, Mich.-Coach Johnson kicked off his 2010 signings by staying local with a commitment from Mamadou Diallo, senior at Detroit Southwestern High School. Diallo signed his 2010-11 Letter of Intent inside the conference center at Southwestern High.
Diallo is a 5'6″ forward/midfielder with a wealth of club soccer experience. In fact, club teams were the only way for Diallo to get out and play the game since Southwestern High School did not have a team. However, due to increased demand and Diallo's signing, Southwestern has soccer in its plans for 2011.
He was a member of the Detroit Spartans, a Metro Detroit Soccer Leauge (MDSL) team in recent years. Last season, Diallo and the Spartans played their way into the championship game to finish as runner-up in the MDSL. In 2009, Diallo took his skills overseas in Gothenburg, Sweden for the world-renowned Gothia Cup. The Cup is known as the largest youth soccer tournament in the world with over 300,000 spectators visiting Sweden during the competition.
Coach Johnson on Diallo: Mamadou is a tremendous competitor who has a very high motor on the field. He will cover a lot of ground in the midfield for us defensively, and he adds the capability to score from distance as well. I am looking forward to great things from him during his time at Marygrove College.