Volleyball Drops Two to Open 2010 Season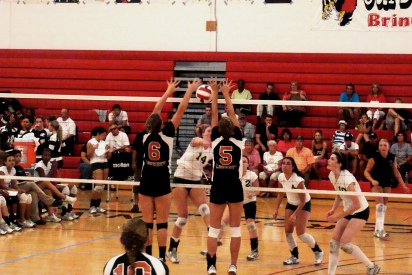 ANN ARBOR, Mich.-The Marygrove College volleyball team opened the 2010 season with a pair of hard-fought losses on the first day of the Concordia Cardinal Kick-Off Classic in Ann Arbor, MI this afternoon.
The Mustangs fell to Lourdes College (OH) in straight sets to open their second season of action (25-19, 25-22, and 25-23). The Gray Wolves toppled the Mustangs for their second win of the day after disposing of tournament host Concordia College.
The youthful Mustangs (no active player over sophomore status) started slow, but finished with a fury that put the favored Gray Wolves on the defensive for the majority of the match. Sophomore Jaci Michetti (Gabriel Richard/Riverview, Mich.) led the Mustang charge with 8 kills.
In the nightcap, the Mustangs squared off against the host Cardinals. Another valiant effort fell short for the much-improved Mustangs as they fell three sets to none (25-18, 28-26, and 25-9). Sophomore Elizabeth Lerczak (Hale HS/Hale, Mich.) paced the Mustang attack with a game-high 8 kills on 12 attempts.
The second year team's effort and level of play was visibly ahead of the 2009 version of Mustang Volleyball. Experienced sophomores led a day of competitive action that proved the Mustangs legitimate contenders this season. Freshman Brittani Robinson (John Glenn/Westland, Mich.) came up big in her first day of college competition with 9 total kills.
"Overall, I thought we looked ahead of schedule in comparison to last season," said head coach Karen Graves. "I am pleased with the effort today although we didn't get the results we set out for."
Coach Graves and the Mustangs will hit the court tomorrow morning at 9am against Ursuline College (OH). The morning matchup will be followed by a 1pm tournament finale against Purdue-North Central (IN).