Mustangs Pepper Warriors For Historic Home Victory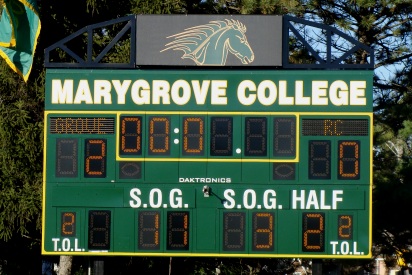 DETROIT, Mich.-The women's soccer team ushered in a new era in Marygrove athletics with a 2-0 win over USCAA rival, Rochester College. For the first time in College history, the Mustangs were able to play host to an opponent on campus grounds, and made it memorable by cruising past their counterpart 30 minutes to the north.
Sophomore Ashley Inglsbee (Waterford, Mich./Oakland Community College) missed the pregame tailgate, yet managed to start the party on the field a mere 8:54 into the game with a chip-shot goal over the Warriors netminder. Paige Bicoll (Warren, Mich./Mott) was credited with the assist on the first scoring play in the history of the new field.
After the first goal, a furious Mustang attack would ensue as the team from the "D" rained shots on the Warriors to the tune of a 10-3 first stanza advantage. Attempting to capitalize early, Sarah Kator (Madison Heights, Mich./Madison Heights) blasted a shot that rang off the crossbar early in the contest that nearly brought hysteria to the Mustang faithful.
The second half would be a continuation of the first with a steady dose of Mustang shots. The defending national champions penetrated the Warrior defense for 11 second half shots (6 on goal). Out of the six on goal, two were missed from close range as the Mustangs missed key opportunities to place a greater distance between themselves and the Warriors.
However, the Mustangs were able to notch another goal to put the visitors in a 2-0 hole when the lone senior, Jonnell Cook (Novi, Mich./Mary Baldwin College, VA) snuck on past the goalkeeper for the skillful tally. Bicoll was in on the assist once again to cap off an amazing day on the pitch.
Jessie Niemi (Swartz Creek, Mich./Swartz Creek), reigning A.I.I. Second Team All-Conference member, missed high on a penalty kick that would have put the Mustangs up 3-0 in the 71st. The insurance goal was unnecessary due to the steady effort of the Mustang defense and goalkeeper Kristen Jolly (Livonia, Mich./Clarenceville). Jolly earned the shutout win in net after playing the first 70+ minutes of action.
In all, the Mustangs outshot the Warriors 21-5, including a 11-3 edge in shots on goal. The two USCAA schools will meet again for pivotal pole position at Rochester on October 7th.
NEXT UP: The Mustangs will take the week off before hosting NAIA powerhouse Taylor University on the 21st at 4pm.