Berry's 30th Minute Goal Tops Cardinals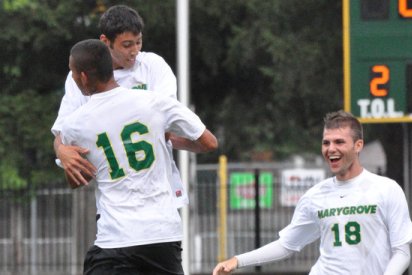 DETROIT, Mich.-On Saturday, the Mustangs' leading scorer struck again when Jordan Berry (Dearborn, Mich./Crestwood) netted a 30th minute goal to ice the Cardinals of Concordia University.
The goal, Berry's fifth in seven games this season, ended up being the game-winning goal for the Mustangs. Lincoln Park's Dorian Bushi was credited with the assist on the play. A strong defense, led by Munt Alhussain (Dearborn Heights, Mich./Crestwood), Tyler Arban (Garden City, Mich./Garden City) and Ali Fardoun (Dearborn, Mich./Fordson), stonewalled the Cardinals all afternoon.
Their efforts, coupled with strong goalkeeping from Alex Dubetz (Royal Oak, Mich./Royal Oak), propelled the Mustangs to the thrilling 1-nill victory. Dubetz turned away five Cardinal shots for the shutout.
The Mustangs stay home to take on Holy Cross College Monday at 4:30pm. A win would put the Mustangs at 4-4 near the halfway point of the season.
Pictured: The Mustangs Jordan Berry receives a congratulatory hug from teammate Munt Alhussain (#16) after his goal. Dorian Bushi (#18) looks on after dishing out the assist on the play.