Talented DeVoe Inks with Mustangs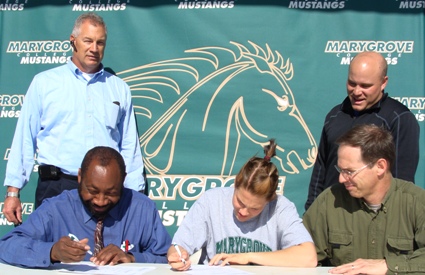 DETROIT, MI–Women's Soccer Head Coach Tony Williams has been on the recruiting trail for months building the inaugural women's soccer team for Marygrove College. Brandon High School standout Shana DeVoe inked a letter of intent in front of friends and family on the soccer field at Brandon High School.
DeVoe, a 5'3″ goalkeeper, is a hardnosed multi-sport athlete who is sure to bring a lot to the Mustangs over the next four years. The soccer standout also excelled at swimming and wrestling during her days as a Brandon Blackhawk. Showcasing exceptional skills on and off the playing field, DeVoe was named a Brandon High School and Flint Metro League Scholar-Athlete.
After years of hard work and dedication towards her future, the talented scholar-athlete recently received a Presidential Scholarship to attend Marygrove College. The distinguished scholarship is given out to a handful of incoming student-athletes who exemplify character, commitment and competence in the classroom. For her efforts, DeVoe's Scholarship will cover all tuition and fees for the 2009-2010 academic year.
Coach Williams on DeVoe: Shana is a talented goalie that will make an immediate impact on our team. She comes out of a solid program and has the ability to become an exceptional college player. I look forward to coaching Shana this fall.