Men's Soccer Hits .500 Mark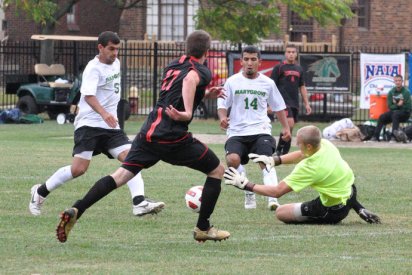 BERRIEN SPRINGS, Mich.-Another strong showing Thursday proved that men's soccer is a force to be reckoned with. Heading into the game underrated at #16 in the USCAA, Marygrove visited #17 Andrews University.
The game between the two Top-20 teams didn't end as close as their ranking with the Mustangs taking the game in stride, 4-0. With the win, the march toward Vermont (site of USCAA National Championship Tournament) picked up major traction. After putting the toughest part of their schedule behind, the Mustangs seemed poised to make a furious national championship tournament bid late into the season.
Likewise, the Mustangs .500 record will begin to weigh heavily on the raters for the NAIA conference tournaments coming in November. With a strong finish, the Mustangs could potentially find their way to Arizona to square off against some of the North America's finest talent. Currently, the Mustangs are on the outside looking in but could catapult in the polls with strong play to close the season.
Feared freshman midfielder, Jad El-Zien (Dearborn, Mich./Fordson), toed his way to a 5-point night on the pitch with two goals and an assist. His performance was followed by Ahmed Almosawi (Dearborn, Mich./American Muslim Academy) and Sam Miller (Toledo, OH/Plymouth) with a goal each. Almosawi's goal would be his second in two games, while Miller would be credited with his first intercollegiate goal.
Sophomore Jordan Berry (Dearborn, Mich./Crestwood) continued his torrid points pace by adding two assists on the evening. Berry's two assists bring his season point total to 23 (9 goals, 5 assists) in only 12 games.
Alex Dubetz (Royal Oak, Mich./Royal Oak) and Malcolm Brinker (Plainwell, Mich./Plainwell) shared goalkeeping duties in the 4-0 win.
The Mustangs will take the weekend off before hosting Grace Bible College on Monday. Game time is slated for 4pm.