Mustangs Fall Just Short Against NAIA #3 Cornerstone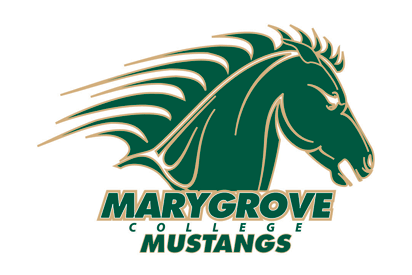 DETROIT, Mich.-The Mustangs hosted the NAIA's #3 team in the nation Saturday afternoon before matinee crowd primed for an upset. The (3-7) Mustangs, came into the game hungry for a statement win that would establish the team has arrived and is here to stay.
The Mustangs proved they were up to the challenge against the 3rd ranked Golden Eagles by taking a quick 13-5 lead five minutes into the game. After that, a furious Golden Eagle run would see the visitors take the lead just a few minutes later. Hitting another icy patch, the Mustangs sat at the 20-point mark for four minutes in the first half as one of the nation's best took a 34-24 lead into the break. Leadership from Chris Sinagoga (Madison Heights, Mich./Bishop Foley) didn't let the lead discourage the Mustangs. The sharp-shooting sophomore continued to pull his team together during every dead ball to help will his team back into the game. In fact, late into the second half the underdog Mustangs had a chance to pull within one possession before a game-changing call wiped away a Brandon Carlson (Waterford, Mich./Kettering) and-one attempt to bring the Mustangs to within three. Instead, Carlson was called for a charge and the Golden Eagles dropped in two free throws on the ensuing possession to take an eight point lead. The five-point swing would prove to be enough to shut the door for good as the Mustangs fell just short of the upset, 75-70. Marcus Hopkins (Southfield, Mich./Southfield) led the Mustangs with 14 points, 7 rebounds and 5 assists. Freshman phenom [Brandon] Carlson followed closely with 13 in the near upset of the #3 team in the land.