Mustangs' Rally Falls Short In Final Seconds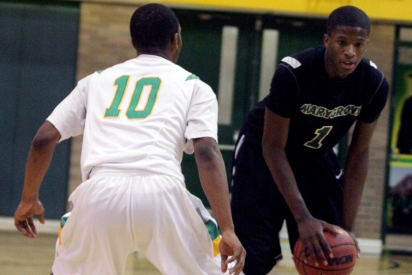 LIVONIA, Mich.-On Friday, the men's basketball team competed in their first game after final exams at the 2010 Madonna University Classic.The two-day tournament kicked off with a 6pm neutral court NAIA battle between the Mustangs and the Cougars of Spring Arbor University.
Starting off slow, the Mustangs spotted the Cougars an 11-0 lead nearly four minutes into the game. The Mustangs battled back briefly before the Cougars closed out the half strong behind red-hot 54% shooting from the floor and led the Mustangs 46-31 at the break.
The Mustangs went into the locker room down 15 and seemingly poised for a lopsided loss.
Enter the second stanza.
A better defensive effort brought the Mustangs to the ten-point threshold with 13:00 left to play. Off a steal, senior Justin McKinney (Detroit, Mich./Mumford) flushed home a monster and-one dunk to cut the lead to single digits with 12 minutes of action remaining. The dunk brought the Mustang bench alive and incited a furious comeback over the next five minutes.
A barrage of three's from sharpshooting freshman Darryll Dixon (Flint, Mich./Hamady), none bigger than the lead-changing three that put the Mustangs up one with five minutes left, helped lead the Mustang charge in the second half.
However, the Mustangs riveting comeback fell short in the waning seconds as a last second layup rimmed off and was followed by two Cougar free throws for the 77-73 neutral court loss.
The Mustangs (3-9) will visit Madonna University tomorrow morning for a 11am showdown against Chicago's East West University. The Phantoms (4-14) of East West lost to host Madonna 92-55 in Friday's nightcap.