Roosevelt's Butler Signs with Mustangs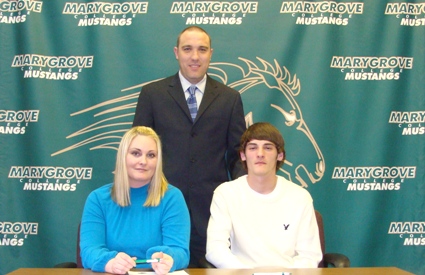 DETROIT, MI–Hot on the recruiting trail for months, Cross Country Head Coach Lee Shaw signed his first recruit in program history as Roosevelt High School's Anthony Butler was the first to commit to the Mustang Cross Country Program.
Butler, a 5'11" distance runner from Wyandotte, makes for a compelling story as he has only run cross country for one season. Butler only competed in cross country his senior year at Roosevelt High. Showcasing the talent that he is, Butler was awarded Rookie of the Year by his coaching staff.
Exemplifying the true meaning of a student-athlete, Butler comes to Marygrove with an excellent high school GPA and was recently awarded a Presidential Scholarship to attend Marygrove College next fall.
"Anthony is a great addition to our new program. We are proud to have an excellent student-athlete like Anthony sign with us. With only one year of competition, Anthony is a raw talent that has a lot of untapped potential. I am confident Anthony will become the runner he has set out to be in our program," said Cross Country Coach Lee Shaw.