Mustangs Welcome Jock into Program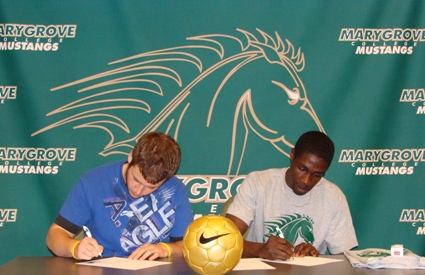 DETROIT, MI–Men's Soccer held their third signing in as many days on Thursday. Port Huron native David Jock joined assistant coach Ryan Montague to sign his letter of intent. Jock will join the Mustangs later this summer to prep for the upcoming season.
Jock comes to Marygrove with a wealth of soccer experience both indoor and outdoor. The 5'10" all-around player is as versatile as they come. Over the course of a lengthy playing career, Jock has managed to play and excel at many positions. Jock was named captain two times during his high school days at Port Huron High. During his successful high school career, the former Big Red stockpiled the individual accolades such as: Most Versatile Player Award, 110% Award, All-District Team, and All Blue Water Area Honorable Mention.
Adding to his soccer resume, Jock has an impressive background in Futsal. Futsal is a five-on-five form of soccer that is played on a hard surface rather than a grass field or turf. Players that have a background in Futsal typically showcase excellent creativity, discipline and control with the ball.
Coach Johnson on Jock: Dave is an experienced player with a background in Futsal. I expect great things from Dave both on and off the field. He will be an instant asset in the classroom helping our other freshman as he comes to us with previous college experience.