Jimenez Joins Growing Group of Mustangs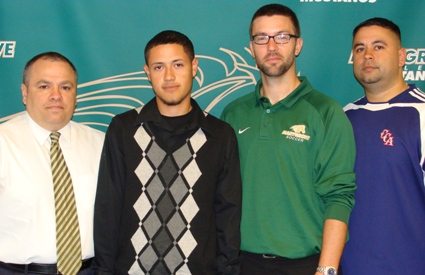 DETROIT, MI–Head Men's Soccer Coach Matt Johnson added another recruit to the inaugural men's soccer class on Monday. Cesar Chavez Academy's German Jimenez signed a letter of intent with his Principal and Athletic Director at his side. Jimenez is the fourth student-athlete to commit to the Mustangs for the 2009-2010 season.
The versatile 6′ forward/midfielder joins the Mustangs with four years varsity experience. He was a four-year team captain on varsity and named team MVP three times. Constantly breaking down opposing defenses, the former Eagle put 15 goals in the back of net over the course of his career. During the summer, Jimenez plays for Jalisco in a Mexican Soccer League in the Detroit area.
Coach Johnson on Jimenez: German is a tough kid that will bring a lot to our program. His toughness and versatility make him very coachable. German is used to playing against tough competition and will adjust well to the college game.