Clarenceville Star Inks with Mustangs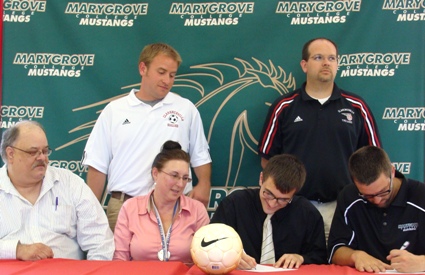 DETROIT, MI–Men's Soccer Coach Matt Johnson was at it again on Thursday as he added another prized recruit to the inaugural 2009 class.  Livonia Clarenceville's Garrett Gregg signed a letter of intent to continue his playing career as a Mustang this fall.
Gregg, a hardnosed 5'7″ goalkeeper, had a successful career in net at Clarenceville High. In his senior and final year, Gregg broke the Clarenceville High School record for consecutive shutouts with three. The three shutouts began an exceptional season for Gregg as he was eventually named First Team All-Metro Conference. The All-Conference honor would top the long list of accomplishments for the three year starting netminder. The vocal leader was also named captain his senior year.
Coach Johnson on Gregg: Garrett is a hardworking young man who is a tremendous athlete. I look for him to be a vocal leader from at the goalkeeper position this fall. We are pleased to have Garrett as a Mustang.