Wire-To-Wire! Mustangs Win Opener, 75-68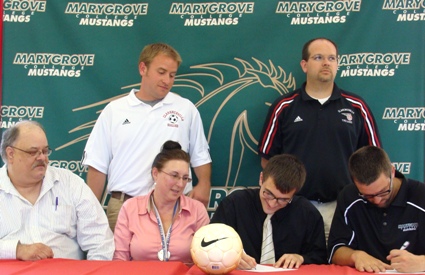 DETROIT, Mich. — The Mustangs opened the 2011-12 season with a bang after drubbing the Gray Wolves of Lourdes University, 75-68. Coach Hitchock and the Mustangs (1-0) used a raucous opening-night crowd to rattle the Gray Wolves (1-2) en route to the victory.
In the first half, the Mustangs and Gray Wolves combined for a less than desirable 37 turnovers and 32 fouls. The shared totals could be contributed to first game jitters for a young Mustangs team. Despite the high totals, the Mustangs were able to take advantage of Gray Wolves miscues and take a 30-25 lead into the halftime break.
The second half of the opening-night tilt saw the Mustangs come out like a well-oiled machine. The Mustangs, fueled by Kaila Corrothers (Detroit, Mich./Owens CC), used a dominant 27-12 run to start the half to gain a 20-point lead, 57-37, with 10:22 to play. Corrothers finished the night with 19 points to lead the Mustangs.
In the end, the Mustangs never let the gritty Gray Wolves take a lead at any point in the game to win 75-68.
Newcomer Adrienne Weaver (Flint, Mich./Mott CC) put on a show in her Mustang debut by tallying 15 points on 5-of-7 shooting. Her effort was followed by junior Keara Marks (Detroit, Mich./Renassiance) who scored 13 points to go along with four rebounds and four assists. Sophomore Andrea Smith (Jackson, Mich./Napoleon) scored 5 points, but played a huge role by snagging 10 rebounds for the Mustangs.
Shantinique Baker (Detroit, Mich./Kellogg CC) and Charmaine McCray (Saginaw, Mich./Arthur Hill) also helped the Mustangs cause with stat-stuffing efforts.
The Mustangs will look to build off their impressive performance this weekend in Upland, IN at the Taylor University Tournament. All the action starts at 5:00pm Friday when the Mustangs take on Aquinas College in a neutral court battle.