Murry Signs Letter of Intent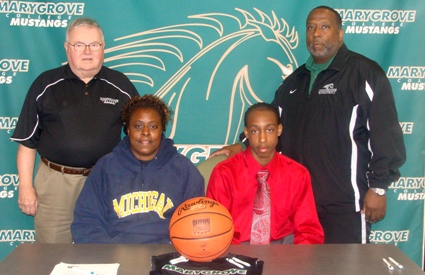 DETROIT, MI–Head Coach Glen Donahue ushered in another student-athlete by signing his second of the day on Wednesday. Romulus Summit Academy's William Murry signed his letter of intent to play for the Mustangs in the fall. The signing was also the second for the 2009 Mustang class.
Murry, an athletic 6′ combo-guard, is a welcome addition to the 2009 class. His breakout game came his senior year against rival Henry Ford Academy when he exploded for 25 points, 10 steals and 8 assists. With a solid all-around game, Murry was a prominent figure in the Charter School League for much of his career.
Coach Donahue on Murry: William was a good player for Summit Academy. I expect him to develop into a fine college player as well. He handles the ball well and can score on the fast break. We are looking forward to coaching him next season.