Mustangs Ink Moore from Summit Academy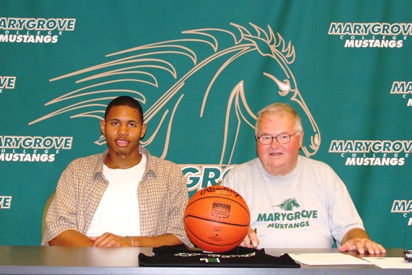 DETROIT, MI–Coach Donahue continued to pour in the local talent this offseason as he added a second recruit from Romulus Summit Academy. Kevaunte Moore, a 6'4″ forward, signed with the Mustangs last inside the Marygrove College Wellness Center.
Moore is a hardworking post player with a lot of natural ability. The combination of his athleticism and work ethic make Moore a double-double threat every time he steps on the court. During his senior year, Moore averaged nearly 10 points and 10 rebounds per game. He comes to Marygrove fresh off a stellar baseball season. Moore plans major in Accounting while at Marygrove.
Coach Donahue on Moore: Kevaunte is a strong, hard-nosed player from a talented conference. Coach Sichterman watched Kevaunte play this season and quickly alerted me about him the following day. As he develops, he should be a strong player in our program.