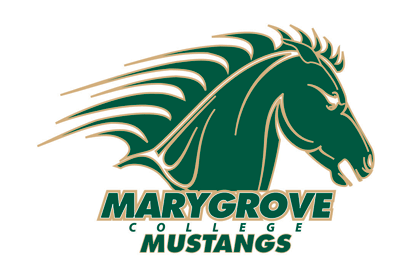 DETROIT, MI–With five new sports fast approaching, the Marygrove College Athletic Department will host Mustang Media Day 2009 on Thursday, Aug. 20 on the beautiful Marygrove College campus. The program will kick-off at 9:00 a.m. with a press conference at 9:30 a.m.
Mustang head coaches and players will be present for interviews. After the session is over, members of the media are welcomed to head out to the practice fields to take photos and tour the grounds of Marygrove College. The program will wrap up around 12 p.m.
"This is an exciting time in Marygrove's history," said David Sichterman, Marygrove College's Athletics Director. "Cross country and soccer join a budding basketball program as the men's sports on Marygrove's campus; while cross country, soccer and volleyball join women's basketball on the female side. All sports are varsity programs in the National Association of Intercollegiate Athletics (NAIA) and are conference members of the Association of Independent Institutions (A.I.I.)."   ABOUT THE COACHING STAFF:
The Men's and Women's Cross Country programs will be led by Lee Shaw. Shaw is a former standout runner at Eastern Michigan University, and recently started the cross country program at Plymouth High School, in Plymouth, Mich.
Matt Johnson, a 10-year professional soccer veteran, will lead the Mustang Men's Soccer team into their inaugural season. Currently, Johnson is the coach of the Detroit Ignition, Detroit's only professional soccer team.
Success is no stranger to Marygrove's new Women's Soccer head coach Everton (Tony) Williams. Williams won a 1992 Michigan High School Athletic Association State Championship while at Rochester Adams High School in Rochester, Mich. Before closing its doors, Williams led the upstart St. Mary's College Men's Soccer team for four years.
Head women's volleyball coach Karen Graves, former NAIA All-American, rounds out the coaching additions at Marygrove. Graves will lean on her successful collegiate years as she guides the Mustangs into their first season. Shedding any thought of growing pains as a new program, Graves quickly went out and signed many of the metro area's top talents.  NEW ATHLETICS WEB SITE:
The Marygrove College Mustangs recently launched an Athletics Web site. Marygrovemustangs.com includes an enhanced scoreboard, in-depth player profiles, fan polls, and much more!
Reporters interested in attending Media Day can RSVP to Tim Johnston, Sports Information Director, at (313) 927-1419 or tjohnston@marygrove.edu.