Berry, Nizam Continue Careers at Marygrove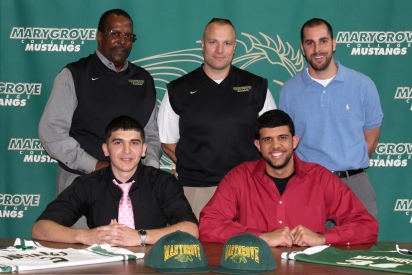 DEARBORN, Mich. — The Marygrove College Men's Basketball program added to their outstanding 2012 class with the signing of two student-athletes on Wednesday (04/25) afternoon. Ali Berry and Hassan Nizam, a pair of signees hailing from nearby Dearborn Fordson High School, each signed a 2012-13 Letter of Intent to continue their playing careers.
Berry, a 6'4″ crafty center, will add depth to the Mustangs' guard-heavy team from a season ago. The center joins a stellar cast of frontcourt teammates to commit to the Mustangs this year. A two-year target of the Mustangs, Berry helped fuel the Fordson Tractors attack throughout a senior year in which the senior notched five double-doubles. The well-rounded athlete played two seasons AAU basketball for Team Hype (2010-2011) while hitting the gridiron for a year of varsity football for the Tractors. Berry intends on majoring in accounting at Marygrove.
"Ali was a three-year varsity player who was a force in the paint defensively", said Fordson head coach Osama Abulhassan. "He led the team in blocked shots two years in a row and recorded the most double-doubles on the team his senior year."
Coach Sichterman on Berry: Ali will add much-needed depth to our frontcourt for next season. He is a great young man that fits our character-driven initiatives at the institution. As he moves into the college ranks, Ali will need to gain strength and work hard in the weight room in order to achieve the level of success our coaching staff has in mind for him. We have been watching Ali for two years and are very happy to have him as a part of our team heading into next season.
Nizam, a 5″10″ savvy point guard, helped lead the Tractors perimeter threat after tallying over five three-pointers in three or more games during his senior season. The deep ball threat earned All-City and All-League Honorable Mention honors for his play at the conclusion of his senior campaign. Nizam joined teammate Berry on Team Hype last summer (2011) and was also a two-year target of the Mustangs coaching staff. Nizam lists education as his intended major at Marygrove.
"Hassan is a fiery team leader who takes pride in guarding the opposing team's best player. He was our leading three-point shooter and made over five threes in a game on multiple occasions", said [head coach] Abulhassan.
Coach Sichterman on Nizam: Hassan is in many ways an underestimated player that will fit in well along with Ali at Marygrove. He has the competitive fire needed for success at this level and shows plenty of pride in his game when taking on challenges on the court. He is a fundamental player that has shown plenty of improvement over the past two years we have been watching him. Like Ali, Hassan is a man of high character and we are glad to have him as a part of our program.