Mustangs Sign Local Standout Jerome Wheeler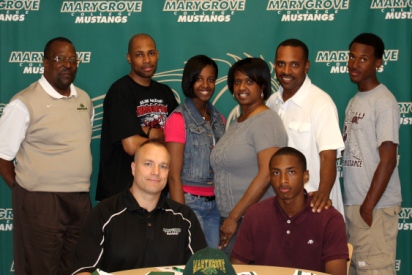 DETROIT, Mich. — On Thursday (05/24), the Mustangs announced the signing of their ninth commit of the 2012 class. This time, Coach Dave Sichterman and the Mustangs did not have to travel far as they made the trek down the road to sign Jerome Wheeler from Renaissance High School.
Wheeler, a 6'1″ guard/forward, will be heading to Marygrove after enjoying much success at the prep level under the guidance of the highly-respected Renaissance Phoenix coaching staff. Recently, Wheeler is fresh off a senior campaign in which he helped lead the Phoenix to a PSL Westside Championship to conclude the 2011-12 season. The talented wing player also played two years for the well-known Motor City Magic AAU team.
At Marygrove, Wheeler plans on majoring in Business with a concentration in Finance.
Coach Sichterman on Wheeler: Jerome is coming to us from an excellent program at Renaissance High School. He is another great product of the Renaissance system and we will work to continue his development at the collegiate level. He is deceptively athletic, mostly because he plays left-handed, and has the ability to provide instant offense. Jerome is the first men's basketball recruit from Renaissance to join our program and we are happy to have a local product as a part of our plans for the next four years. I look forward to coaching Jerome and the rest of our 2012 class next season.