Women's Soccer Inks First 2010 Recruit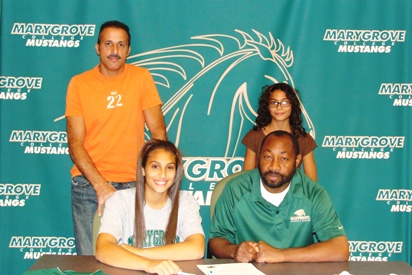 DETROIT, MI–The Mustangs added their first 2010 recruit to the program as Bianca Berry signed her letter of intent. The signing, the first 2010 recruit for any sport, comes days before the women's soccer team hits the field for their inaugural season on Tuesday.
Berry, a 5'6″ forward from Crestwood High School in Dearborn, is the sister of freshman men's soccer player Jordan Berry. The latter of the siblings looks to make a splash when she wears green & gold next fall. Berry showcased the ability and commitment to make her a better player each season as she was awarded Most Improved Player in two of three seasons at Crestwood thus far. Her talent earned her a spot on the Michigan Rush, one of Michigan's top soccer clubs.
Coach Williams on Berry: Bianca comes to us from a soccer family. She has great support from both her family and friends at home. She is an athletic forward who will help our program right away. I am very glad we were able to add Bianca as our first 2010 recruit.