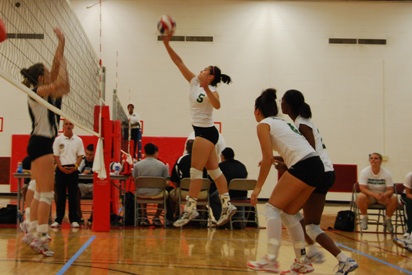 GARY, IN–Women's Volleyball  nearly snatched their first set of the season on Thursday against IU-Northwest. Instead, the home Redhawks rallied from behind in the first set to steal the game from the Mustangs and never looked back winning in three straight sets.
Heading into the match against the Redhawks, the Mustangs knew they needed a strong start after dropping their first five matches of the season. It happened. Coach Graves' young crew raced out to a 23-19 lead in the first set and seemed poised to finally get over the hump. A late (7-1) Redhawk rally spoiled the Mustang efforts and had the team staring straight into another deficit. The team never quit as they battled tough for two more sets (25-10, 25-22) before dropping in three straight.
"We are a young team that is improving by the day. We showcased great heart tonight by staying in the game after a heartbreaking first set. I am very optimistic that we can turn this season around soon as we learn from each time we step on the court," said head coach Karen Graves.
A Look Ahead: The Mustangs travel to Schoolcraft College on Wednesday, September 2nd at 7pm. The team looks to turn things around against the perennial junior college power from Livonia.