Mustangs Fall in Hard-fought 2-0 Battle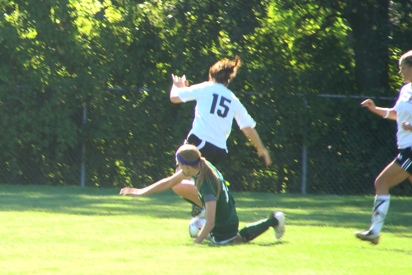 OLIVET, MI–The Marygrove Women's Soccer team hit the field for the first time in program history at Olivet College on Tuesday. A strong start would propel the Mustangs to a 0-0 tie through the first (36:00) minutes.
Starting a first year program is never easy. Opening the inaugural season on the road against a successful NCAA Division III opponent makes it even more difficult. However, the Mustangs pressured the host Comets for much of the first half and looked up at a scoreless tie at the 35-minute mark. Shortly after that, the Comets would score two quick goals at (36:31) and (37:35) to put the Mustangs down 2-0 at the half.
The Mustangs came out strong in the second half and limited the Comets chances with timely defense and fluid offense. The best chance came with a late Ashley Inglsebee header that ended in a foul on Marygrove. Sarah Kator would follow with a shot on goal from 30′ that was saved by the Comet netminder. In the end, the Mustangs would fall 2-0 to the Comets as both teams battled to a scoreless second half.
The Mustangs were led by Inglsbee with five shots on goal. Inglsbee's attack wore down the Comet defense over the course of the game as goals seemed to be on the horizon. Time would run out on Inglsbee and the youthful Mustangs for the afternoon, but the team showed promise and is sure to make a splash in 2009.