Mustangs Tripped Up on the Road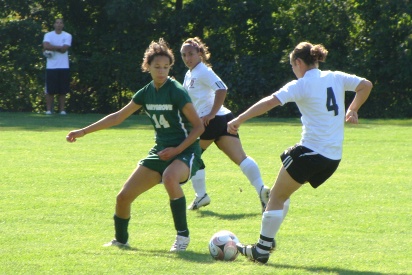 WINONA LAKE, IN–The Mustangs traveled to Grace College (IN) on Wednesday for a tough afternoon matchup. Wednesday's game came a week after the Mustangs surprised NCAA Division III Olivet College by pushing the strong team to the limit.
The Lancers, who came into the game with an unblemished (4-0) record, looked to corral the Mustangs before the young team could gain any momentum. The corralling began shortly after the first whistle as the Lancers hopped on the Mustangs early and often. A five-goal first half would put the Mustangs in a hole that would be hard to climb out of.
After a brief meeting at the half, Coach Williams and his Mustangs came out strong and held the Lancers in check for much of the second half. The Mustangs would allow one more goal in the second to fall behind (6-0). A late surge would challenge the Lancer defense, but the Mustangs fell short, 6-0.
The Mustangs travel to Pikeville, KY on Saturday as part of a men/women soccer double-header. Pikeville College heads into Saturday's double-header with a combined 7-1 record between their men's and women's soccer teams.