Walled Lake Western Star Joins Mustangs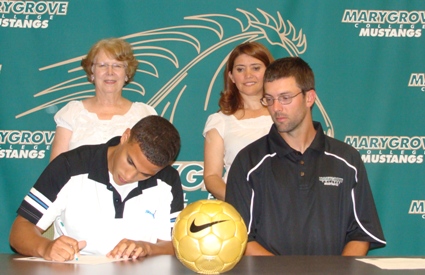 DETROIT, MI –Men's soccer coach Matt Johnson inched closer to closing out his inaugural class by signing another star recruit. Walled Lake Western standout Joseph de Verteuil signed a letter of intent inside the new Marygrove College Wellness Center on Friday. He will join many other incoming players as they look to kickoff the first season of men's soccer in Marygrove College history this September.
The athletic 5'7″ forward joins the Mustangs after four years of soccer at Walled Lake Western. Over the course of stellar high school career, de Verteuil was awarded the Jan Schnelz Award (Best Freshman), Best Forward and All-District honors. He will also bring a wealth of competitive soccer experience to Marygrove from his experience playing for Vardar Soccer Club for two years. Additionally, the soccer standout was a regional qualifier in wrestling his senior year.
Coach Johnson on de Verteuil: Joseph brings strength and speed to our roster for next season. He is a player that we identified early as having the qualities we are looking for both in the classroom and on the field. I expect him to be an important player for us for the next four years on our way to establishing a winning program.