Women's Soccer Makes History; Wins 1-0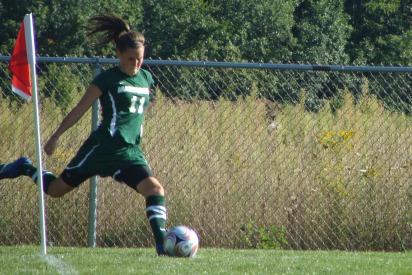 PIKEVILLE, KY–They did it! Three games into the inaugural season and the Mighty Lady Mustangs found a way to pick up their first victory in program history. Not only that, but the Mustangs played a balanced all-around game to secure their first shutout, 1-0.
The Mustangs first victory came at the hands of Pikeville College (KY). The Bears from Pikeville entered the game with an impressive (3-1) record, compared to the Mustangs (0-2) record. However, Coach Williams and gang didn't back down from the challenge the opposing NAIA school would bring. A solid effort would keep the game knotted, 0-0, with one half in the books.
The second half brought forth another strong defensive effort for the Mustangs. Laura Nail and Jessica Niemi stifled the Bears offense with an excellent showing. Their efforts, combined with a strong team play, put the Mustangs in position to win the game late.
With the score tied 0-0 with only (10:00) minutes to play, freshman Sarah Kator (Madison Heights Bishop Foley) made a move past the Bear defense and scored the first goal in Mustang women's soccer history. The clutch goal secured the Mustangs first victory and the celebration ensued as the clock struck zeros.
Freshman GK Shana DeVoe (Brandon High School) was the netminder the entire (90:00) minutes of action. The narrow 1-0 victory would be DeVoe's first intercollegiate shutout and it couldn't have come at a better time. The strong-minded goalie not only stopped shots, but helped will her team to victory with excellent leadership on the field.
"The girls played great today! I couldn't be more proud as a coach to be a part of their victory today. The team worked hard to get to this point and I hope we can build on it going forward. We have a lot of work to do because we are young, but we are going to enjoy this day," Coach Tony Williams said of his victorious squad.
The Mustangs will look to secure back-to-back NAIA road victories when they travel to Huntington University (IN) this Saturday.