Mustangs Battle to 0-0 Tie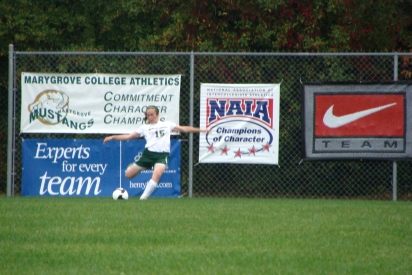 DETROIT, MI–The Mustangs were unsure if they would have enough starters on Saturday due to injuries and personal reasons for their game against Pikeville College. Eleven players would start and compete in 110 minutes of double-overtime action.
The Bears traveled to Detroit exactly two weeks after their 1-0 defeat to the Mustangs in Pikeville, Ky. The loss still loomed in the Bears' minds as the game quickly turned ugly with multiple Bear fouls. A seesaw battle would ensue for much of the first half as the teams battled to a 0-0 halftime score.
Rough play continued in the second half as the larger Bear squad attempted to bully the youthful Mustangs around. Coach Williams and his squad refused to back down and attacked the Bears goaltender with a couple strong shots. Freshman defender Karlee Derrick (Garden City) would go down with an injury shortly after and the Mustangs were forced to play a few minutes shorthanded.
Derrick would return to action and continued to thwart the Bears offense. Her never-say-die effort was a large factor in such a close game.
The game would head to overtime after each team exchanged late scoring chances. The 11-player Mustang squad would head into overtime tired, but they knew their job was incomplete as time was put back on the clock. The teams would play two scoreless 10-minute overtime periods resulting in a (0-0) tie.
The Mustangs were led by Ashley Inglsbee with three shots on goal. Goaltender Shana DeVoe stopped all 12 of the Bears' shots on goal. The shutout would be DeVoe's third in the last four games.