Volleyball Continues to Improve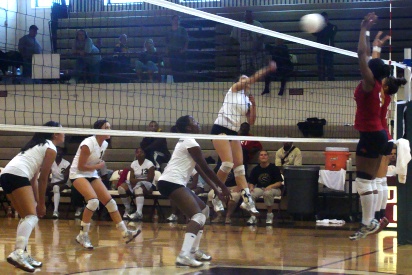 DEARBORN, MI–The Mustangs suffered two losses on Wednesday night in a tri-match at the University of Michigan-Dearborn. The host, U of M-Dearborn, and Rochester College would join the Mustangs at the tri-match event.
In game one, the Mustangs squared off against the Wolves of U of M-Dearborn. Coach Graves' squad was looking carry the momentum of their parent's night win to upend the host Wolves. However, the Wolves had other plans as they corralled the Mustangs in straight sets, 25-13, 25-18, and 25-16.
The Mustangs were forced to shake off a first match loss as USCAA #2 ranked Rochester College loomed in front of them. The Warriors from Rochester went into the match winning all sets between the two teams during their meetings previously this year. The Mustangs, an improved team since their last meeting with Rochester, set out to prove to the Warriors this match would be different.
An improved effort was coupled with some freshmen setbacks as the Mustangs were swept once again. This time, the Warriors edged the Mustangs 25-20, 25-17, and 25-23. The close scores are evidence the Mustangs are gaining valuable experience during their inaugural season. A mere 10 points separated the Mustangs in a straight set loss to the #2 team in the USCAA is proof the Mustangs can compete for a title in year two of the programs young history.
NEXT UP: Mustangs @ Grace Bible Tournament
 Friday: 4pm – Mustangs @ Grace Bible    8pm – Mustangs v. Moody Bible                  Saturday: 9am – Mustangs v. Great Lakes Christian College