Mustangs Take 2 out of 3 at Grace Bible Tourney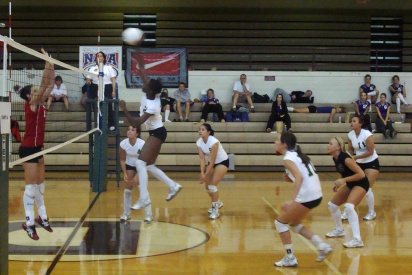 GRAND RAPIDS, Mich.-The Mustangs visited Michigan's west side for a weekend tournament at Grace Bible College in Grand Rapids. A balanced attack led to a 2-1 record on the weekend.
The two-day tournament kicked off with a match against the host Tigers of Grace Bible College. A four-set slugfest ended with a Mustang victory over the Tigers (25-21, 25-22, 22-25, 25-19). The Tigers clawed their way back for a third set win after the Mustangs charged out of the gates for a 2-0 lead. The door closed on the Tigers as the fearless freshman from Marygrove pulled out all the stops (25-19) to avoid the fifth and deciding set.
Moody Bible College (Ill.) was next on the Mustangs weekend agenda as the two teams were set to square off for a Friday night showdown. Moody Bible would be the heavy favorite boasting a 17-2 record heading into their match with the Mustangs. In the end, the strong Moody squad powered over the Mustangs with a three-set sweep. The loss dropped the Mustangs to 1-1 on the weekend and 7-18 overall.
Saturday morning paired the Crusaders of Great Lakes Christian College against the Mustangs. The meeting would be the first between the teams after a previous contest was canceled this season. A sluggish start to the day pinned the Mustangs in a (1-0) hole. However, the team rallied in impressive fashion for their second four-set victory of the weekend (18-25, 25-22, 25-21, and 25-22). The Mustangs finished 2-1 on the weekend with the win.
Felecia Kelsey led all Mustangs with 26 kills at the tournament. She was closely followed by teammates Jaci Michetti (22), Elizabeth Lerczak (21) and Jalissa Favors (19). Shannon Pietruszka led the Mustangs with 82 digs.