Mustangs Add Pair of WCCCD Transfers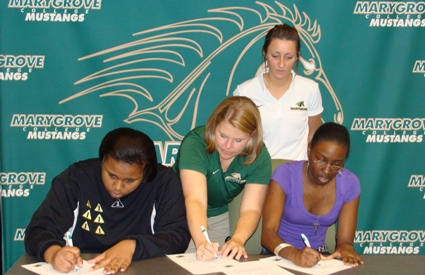 DETROIT, MI –Coach Karen Graves came one step closer to rounding out her inaugural class with the signing of two more student-athletes on Thursday. Wayne County Community College Transfers Dee Coleman and Felecia Kelsey signed letters of intent to join Mustang Volleyball. The signing will bring the transfer tandem to Marygrove this fall for the inaugural season.
Coleman, a 6'3″ outside hitter, comes to Marygrove with a heralded volleyball background. During a successful four year varsity career, the former Denby standout earned All-City honors for two years. She was appointed captain of the Denby squad for two years and led the team in kills one year.
Kelsey, a 5'5″ defensive specialist, is another welcome addition to the 2009 class. Like Coleman, Kelsey amassed All-City honors for two years. She was also named team captain and most improved player during her playing days at Murray Wright High School.
Coach Graves on Coleman: Dee will provide us with a big presence at the net. She is an intelligent player that also displays great versatility. It will be tough to decide what position she can play because she can do it all. We are very pleased to add Dee. Its not everyday that you have a 6'3″ athlete walk into the gym, especially an athlete that has the demeanor and skill that she displays.
Coach Graves on Kelsey: Felicia is an outstanding defensive player. She has a lot of experience and maturity which will help us immediately. We will look to Felecia to be a leader on the team both on and off the court. We are excited to have Felecia wearing the Mustang uniform.