Early Bird: Mustangs Finish 2-2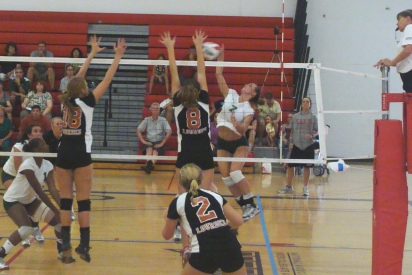 LOUISVILLE, KY-Volleyball's second year continues to impress around the Marygrove community. After suffering a few setbacks, the Mustangs went to Louisville, KY to square off in the 2010 USCAA Early Bird Challenge.
The Mustangs finished the weekend even at 2-2, but nearly escaped 3-1 after a five set thriller to cap off the weekend.
In game one, the Mustangs set the tone for the weekend with a 4-set win over Ohio State-Marion. The Mustangs trampled the Scarlet Wave to the tune of 26-24, 26-24, 15-25, 25-18. Sophomore Jalissa Favors (Southfield, Mich./Southfield HS) had a terrific game with 15 kills on 29 attempts. She was followed by fearless freshmen Desiree Redding (Southfield, Mich./Lathrup) and Brittani Robinson (Westland, Mich./John Glenn) with 8 and 7 kills respectively.
Game two featured the Mustangs against USCAA Early Bird hosts, Spalding University. The Golden Eagles used homecourt advantage to put away the Mustangs three sets to one. Sophomore Jaci Michetti (Woodhaven, Mich./Wayne State) drove down 11 kills on the Golden Eagles, while fellow sophomore Shannon Pietruszka (Garden City, Mich./Garden City) worked hard for 22 digs.
Day two began on a high note for the Mustangs with a victory over Robert Morris-Peoria. The win was the second in as many tries against the team from Illinois. After a first set setback, the Mustangs regrouped to run off three straight sets for the win (16-25, 28-26, 25-18 and 25-21). A balanced effort was paced by freshman Nicole Rodgers (Belleville, Mich./Belleville) with 8 kills. Sophomore Elizabeth Lerczak (Hale, Mich./Hale) added 5 kills in winning effort.
In the tournament finale, the Mustangs fell short in a five-set thriller against Oakland City University. Coach Graves and the Mustangs looked to have the game in hand after grabbing the first two sets. Unfortunately, Oakland City's attack was too strong to close the match as they rattled off three straight sets. In the fifth and final set, the Mustangs were as close as possible after being edged, 16-14.
The Mustangs (4-11) will take time to begin the school year before heading to the 2010 Defiance College Invitational this weekend.