Fifth Set Woes Continue as Volleyball Drops Senior Night Match to Lawrence Tech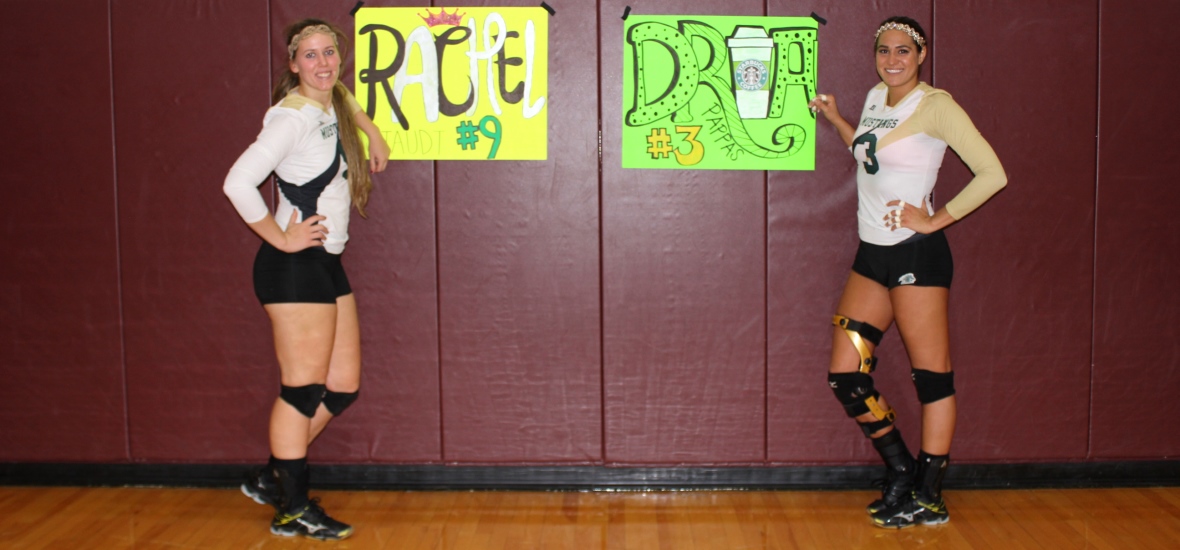 STAY CONNECTED: Facebook | Twitter | Instagram | YouTube
BE THE FIRST TO KNOW:Â Text & Email Alerts
DOWNLOAD OUR APPS:Â iOS (iPhone/iPad)Â |Â Android
DETROIT — Marygrove volleyball dropped its third five-set match in the past seven days after suffering a 3-2 setback at the hands of Lawrence Tech on Senior Night inside Detroit Jesuit High School on Wednesday (Nov. 4). The Mustangs honored the careers of seniors Alixandria Pappas and Rachel Staudt following the match in front of a season-best crowd, thanking the pair for their contributions to the team and the greater Marygrove community.
After starting slow, the Mustangs raced back to knot the match, 1-1, after holding off the visiting Blue Devils to take set two, 25-21. The teams would exchange the next two sets with the Mustangs edging the Blue Devils in the fourth, 26-24, to send the match to a deciding fifth frame.
Last Wednesday (Oct. 28), the Mustangs fell in five sets to Concordia-Ann Arbor after losing the final frame 15-13. Over the weekend, the Mustangs dropped another five-set contest, this time by a 15-3 tally in the final set.
On Wednesday (Nov. 4), the fifth set was unkind to the Green and Gold again as the Blue Devils cruised to a 15-4 win. The loss dropped the Mustangs record in five-set matches to 1-6 on the season and 0-3 over the past week.
The Mustangs were led by Ashley Murphy and Rachel Staudt with seven kills in the conference setback.
Alixandria Pappas recorded four kills and a pair of blocks in front of a large, supportive contingent on her senior night while Brenna Donnelly (Yale, Mich./Mott CC) and Hailey Brandes (Southgate, Mich./Anderson High School) checked in with six and five kills, respectively.
Paige Hughes (Belleville, Mich./Huron High School) had a hand in a team-high three blocks, while Amber Kelly (Mt. Morris, Mich./Mt. Morris High School) took home the team lead in digs with 22. Murphy and Erica Wilson (Warren, Mich./Macomb CC) followed Kelly with seven digs each.
The Blue Devils went to Mary Armstrong on the attack early and often, sending nearly 70 sets her way on the night. Armstrong recorded a match-high 29 kills on 67 attempts while teammate Lexi Szymoniak had 18 kills of her own.
The Mustangs wrap up the 2015 season with WHAC Crossover action at Lawrence Tech on Saturday (Nov. 7). Matches against No. 22 Madonna and Siena Heights are on the slate at 12 and 3 p.m.
WOMEN'S VOLLEYBALL CONTACT: Tim Johnston | [email protected]/* */ | @tjohnston56
MARYGROVE BROADCASTS:Â The Mustang Sports Network (MSN)Â |Â MSN Twitter
WOMEN'S VOLLEYBALL:Â Twitter