Volleyball Inks Rodgers to 2010 Class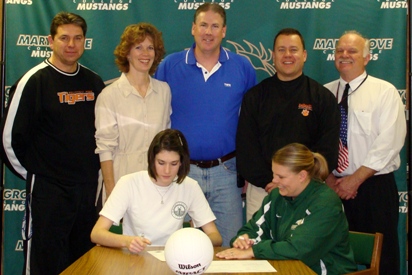 DETROIT, Mich.-Coach Graves and the Mustangs signed their first 2010 recruit on Tuesday afternoon. Belleville's Nicole Rodgers inked her 2010-11 letter of intent inside the media center at Belleville High School. She was accompanied by her parents and school staff members.
Rodgers, a 6′ middle block/right-side hitter, played two years of successful varsity volleyball at Belleville. During her junior season, the Tigers won a district championship under the guidance of current Mustangs Megan Gohl and Shana Tooley. After signing with the Mustangs, Rodgers will get a chance to reunite with Gohl and Tooley as they look to form a championship combination once again.
Overall, Rodgers brings six years of competitive volleyball experience to the Mustangs. She was a member of the widely-respected AAU team, High Velocity, for the last two years (Gold '08-Silver '09). Capping off an impressive career as a Tiger, Rodgers was named to the 2009 All-Conference Team for her outstanding performance on the court.
Despite the success on the court, her academic achievements are not to be overlooked. Rodgers is a 3.5 student and a member of the National Honor Society. The 3.5 gpa and NHS status will fit in nicely with the exceptional student-athletes already in place at Marygrove. She plans to major in nursing and add a minor in art (art therapy).
Coach Graves on Rodgers: Nicole has a lot of potential. She has great footwork and is very tall. Her athleticism and long arms will be an asset to the team from day one and will help fill our blocking holes.