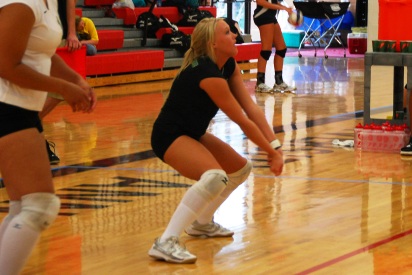 DEFIANCE, OH–Saturday marked the second day for the Mustangs in Defiance, Ohio. Unfortunately, day two of the 10th Annual Defiance College Invitational mirrored the first day for the Mustangs as they dropped another two matches.
The first action of the day saw the Mustangs on the opposite side of the court as Siena Heights University. The Saints (Siena Heights) came into Saturday with an identical tournament record at (0-2). However, the experienced Saints team jumped on the Mustangs early and often for a quick sweep of the match.
The invitational concluded with a match against the host, Defiance College. The Yellow Jackets came into the match with an unblemished (3-0) weekend record. A win against a young Mustang squad would secure the invitational crown for the home team.
Unlike their opening match on Saturday, the Mustangs jumped out to a good start behind revived play. Freshman libero Shannon Pietruszka kept the Mustangs in the match with a strong effort. In the end, a steady Yellow Jacket effort silenced any Mustang run as the team from Detroit was swept (25-13, 25-12, and 25-11).
Shannon Pietruszka was named to the Defiance College (Scotty's Club 111) All-Tournament Team. It was the second time this season the freshman libero has been named to All-Tournament Team honors.